A miracle came suddenly!
AEW's PPV event "Revolution 2021" was held on March 7, Japan time. AEW's PPV event was delivered from FITE.TV in Japan.
The noteworthy card of the day was Kenny Omega VS Jon Moxley's current explosion death match.
And the highlight was the women's title match where Ryo Mizunami, who had won the challenger decision tournament as a Japanese, went to the United States and challenged the champion Hikaru Shida.
Ryo Mizunami, who won the tournament and made her debut in the United States, will fight against Hikaru Shida, who fought many times during the Japanese era, on the big stage in the United States.
It was an important tournament that "Women's Wrestling American Dream" at AEW is about to be realized, which is different from Io Shirai and ASUKA who are participating in WWE.
I wanted to take a vacation on the day, but I ended up going to work normally.
AEW's PPV event will be delivered on YOUTUBE only for the first few games, so when I took out my iphone and looked at Twitter, I thought I should see it while commuting.
Maki Ito appears as a surprise
I found that it was written
!!!
I saw YOUTUBE in a hurry! Maki Ito participates in AEW!
Initially, AEW's opening match, Riho & Thunder Rosa VS Britt Baker & Riva, was planned, but Britt Baker appeared first, and later Riva appeared with crutches.
It was Maki Ito who appeared with a familiar theme song when Britt explained that she could not play the game due to injury.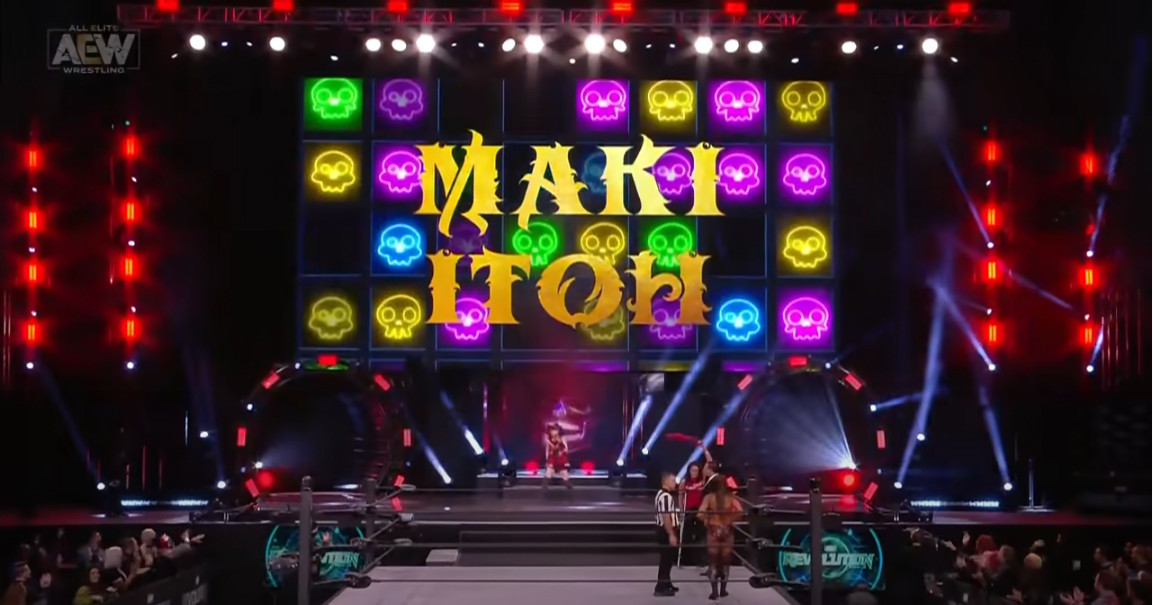 The highlight was the entrance!
Admission by singing one chorus of the usual admission song! A customer who smiles with a big smile, dances and sings firmly while calling out to the customers even if the volume of the song is low, and gets excited!
What! What! Maki Ito, who lost the first round of the tournament, made her AEW debut! Wow Wow! Maki Ito is amazing! It's as good as a history textbook!
Maki Ito demonstrated his strength in the game.
Thunder Rosa's foot is trampled from lying crying
And Maki Ito's specialty "The cutest thing in the world is Ito Cha-n" punch, head butt "Kokeshi" also fails once, but challenges again and hits the opponent firmly, etc. He played freely and showed her free-spirited character.
As expected, in the first environment, there were scenes where the game was attacked and damaged at first, and the timing of the technique was off, but as the game time passed, I gradually grasped the rhythm. ..
Maki Ito made a move to contribute to the victory, such as fighting back firmly in the second half, although there were many scenes where he was able to play against Riho, who will be the first confrontation at AEW.
Britt Baker defeated Thunder Rosa to win the match. Maki Ito and Britt Baker pose for victory together. Maki Ito made her AEW debut, which was really "complete".
And this is not the end of Maki Ito on that day. A women's title match held in the PPV program of the main race. Immediately after the fierce battle between Hikaru Shida and Ryo Mizunami, Maki Ito rushed in with Nyla Rose and Britt Baker. Ryo Mizunami bites and tramples. As a member of the heel unit that was made on this day, I will do my best to escape. Perfect!
And the card at AEW DYNAMITE was announced.
.@AEW
pic.twitter.com/znCvf7pwNi

— Dr. Britt Baker, D.M.D. (@RealBrittBaker) 2021年3月9日
Maki Ito participates! !! Maki Ito is now popular on AEW!
Even though he lost the first round of the tournament, he participated in the PPV event, sang and danced the entrance song at the entrance, broke into the title match, and the next match was decided. Completely this will be Maki Ito's fashion.

Not only a free-spirited character, but also a strong mental power to sing Japanese songs in the United States, and gradually survived the first match (although it was a big factor that Riho, a matchmaker, was against the opponent). Proof of growth. By the way, Maki Ito has appeared firmly in YOUTUBE of ELITE such as Young Bucks and Kenny.
ITS HAPPENING!!!! @maki_itoh pic.twitter.com/QVLuAiQOSP

— The Murderhawk Monster Lance Archer (@LanceHoyt) 2021年3月8日
Maki Ito is enjoying America, taking a two-shot with Lance Archer. It was wonderful! Maki Ito was a huge success and made her debut at the AEW event.
Maki Ito's busy schedule for traveling to the United States
Maki Ito participated in the Tokyo Women's Wrestling Nerima Tournament on March 6th. Maki Ito teamed up with Miyu Yamashita to participate in a tag tournament.
Defeat Shoko Nakajima & Hyper Misao in the semi-finals to advance to the final. In the final match, "NEO Biei Shikigun" Saki and May Saint Michel were defeated and finished second.
【3月6日練馬coconeriホール大会直前情報】
▷いよいよタッグトーナメント準決勝&決勝戦!
▷全席完売のため当日券はありません。
▷#wrestleUNIVERSE 生中継あり!
▷開始時間変更にご注意ください。https://t.co/cpjuhaYMqV#tjpw pic.twitter.com/hR6FhzGbHk

— 東京女子プロレス (@tjpw2013) 2021年3月5日
And Maki Ito will miss the PPV event of Tokyo Joshi Pro Wrestling on March 7th.
In the match on March 6th, I wore an old costume and played the match.
Immediately after losing the tag league match on March 6, Maki Ito tweeted like this.
負けた。。決勝敗退。。山下ごめんな。伊藤はどこか遠い所にでも行く。。 pic.twitter.com/oW6BymDSo5

— 伊藤麻希 Maki Itoh (@maki_itoh) 2021年3月6日
I couldn't have predicted that the "far" tweeted by Maki Ito was in Florida, USA.
I was impressed by Maki Ito's debut in the United States.
Three years ago, I made a book about Maki Ito and gave it to him. And I got an autograph.
I wrote about the incident in the blog entry below.
So now, I couldn't expect Maki Ito to make a spectacular appearance on the stage called AEW. Really amazing. It was the appearance of this AEW that I am looking forward to the future activities of Maki Ito.
Click here for a summary of blog posts about Maki Ito. Maki Ito's professional wrestler life with too many incidents. I think there are still many things to do, so I would like to keep up with them.