AEW Women's Eliminator Tourment Japan block 2nd round Delivered by AEW!
A week after the first round, AEW delivered the Women's Championship Challenger Tournament on February 23rd. The English version will be released at 9:00 in the morning as before. As in the first round, the match venue is the Ice Ribbon Dojo in Warabi, Saitama Prefecture. The ring announcer is Mr. Shindo, who belongs to professional wrestling BASARA. The referee was Tommy. Click here for the English version of the video. This time, the pattern of the American block was also sandwiched between the front and back.
And here is the link for the Japanese version. Same as last time, live commentary and commentary by Announcer Murata and Hikaru Shida. This is only a Japanese block match.
This video and announcement was scheduled to be premiered from 23:00 Japan time, but it was released to the public as soon as possible. If possible, I wanted to make hashtags with Japanese fans and see them together. It was a little disappointing.
By the way, the pattern of the first round and the data of the participating players are introduced in the previous entry, so please have a look. If there is a player who is interested in this tournament, that player's organization. I would like you to see videos and games of Tokyo Joshi Pro Wrestling, Pro Wrestling Gatoh Move Pro Wrestling, Choco Pro, Marvelous, etc. 
1st Match Yuka Sakazaki vs Emi Suruga
The combination of the first match is Yuka Sakazaki, who defeated Mei Suruga in the first round, and Emi Sakura, who defeated Asuka (VENI). Suruga Mei's affiliated organization is Gatoh Move Pro Wrestling, a student of Emi Sakura. For Emi Sakura, this match is not only the second round of the tournament, but also the enemies of Mei Suruga.
Emi Sakura who starts to make a world from the entrance immediately. Entered in the costume of Her Majesty the Queen, accompanied by Mei Suruga, who lost the first round, and Yuna Mizumori of Gatoh Move Pro Wrestling. This time, the character is emphasized from the first round. I feel the enthusiasm to show AEW the existence of Gatoh Move Pro Wrestling.
On the other hand, Yuka Sakazaki enters as usual. She had the usual brightness, but before she was called, she looked down and tense.
When the gong rang, Yuka Sakazaki was the first to set up. After taking down his leg and defeating him, he attacks with leg lock and low-altitude drop kick, but he quickly grabs his hair and reverses the formation of Sakura Emi. She grabs her hair from a Mongolian chop and throws it. I will throw it with a scream like Hiromichi Fuyuki. Here, the composition of baby face = Yuka Sakazaki and heel = Emi Sakura is already revealed.
However, Sakazaki also drops Sakura out of the ring with a drop kick, then sits on the second rope and then knocks him down with a conhero.
However, Sakura also changed her body at the apron and then crossed Sakazaki out of the hall. And Mei and Yunamon of the second of Sakura Emi kick Sakazaki. With this, the match will clearly proceed at Sakura's pace.

Sakazaki managed to return to the ring while eating a backbreaker outside Sakura Emi.
It is kicked by Sakura and is hurt by a camel clutch using a rope and a rolling Romero special.
In the end, Sakazaki was trampled and Fuyuki's macho pose. Sakura who gives a heel-like performance here as well. It looks like it's lively.
Sakazaki reverses and returns the double-armed back drop that Sakura Emi set up again, and Sakazaki's counterattack starts at once from here. Sakazaki's knees run into Sakura's face leaning against the corner, the back elbow that climbs up to the corner quickly, the body slam that holds Sakura running up, and the leg lock after being entwined with the knees.
Yuka Sakazaki's sense of speed is truly wonderful. And I think that Yuka Sakazaki's commitment to articulation has become stronger recently. Sakura manages to escape to the rope, but she looks in agony. Did you gradually feel tired?
And Yuka Sakazaki, the missile kick "Magical Girl Kick" explodes by climbing the rope of her specialty and running on the rope as it is! Emi Sakura also has a dragon sleeper, a neck screw, a cross body on Sakazaki leaning against the corner, a count of 2 on the Nyan Nyan press from the 2nd floor, and the folding after holding each other's pace is amazing.
Sakazaki, who controlled the offense and defense in the corner, connected with Korpata and the complete shot, and then climbed the top rope to aim for the magical girl splash. Sakura who stopped this climbed the corner post from the cross body and exploded the rolling senton! This is hard for Sakazaki, who has a difference in weight. Yuka Sakazaki managed to kick out with a count of 2.
After Sakazaki decided on "Magical Merry-Go-Round" where Sakura was raised on his shoulder and rotated and hit with a bomb, Sakazaki who flew on the rope was intercepted by a windmill type backbreaker.
They collapsed on each other and seemed tired, but when Sakazaki who stood up earlier hit the elbow repeatedly, Sakura also opposed with a strong reverse horizontal. A soulful batting battle will be held here.
However, Emi Sakura who ate Sakazaki's rolling elbow suddenly laughed. Emi Sakura throws a chop while laughing. scared!
Sakura expresses madness while fighting. After catching the rolling elbow, Aun flutters Sakazaki with a series of chops, and Sakura decides to play with the Dragon Sleeper who spins further from La Mahistral. This is an "ice driver" who can escape to the rope by Sakazaki, but immediately holds Sakazaki up to the shoulder with a double arm and drops it sideways while rotating, count 3! Yuka Sakazaki manages to hang her legs on the rope! Sticky!
And after slowly cutting the neck, Sakura aims at the tiger driver. However, Sakazaki landed and evaded this. Here, Yuka Sakazaki is sitting in a position where Sakura is rolled up from a sliding lariat like La Mahistral and counts 3! Yuka Sakazaki advance to the final! Yuka Sakazaki shows an indescribable expression, neither surprise nor relief. However, there is Emi Sakura. There was no such thing as a gentle blessing.
Raid with the two of the second when the referee tries to win and give his name. Emi Sakura tries to kick Sakazaki who collapses and make it bumpy. However, it was Hikaru Shida who was in the live seat. Sakura dismissed early, but it is true that she will create a confrontational structure with Shida and leave. I returned with a meaningful smile.
Submission, out-of-field battle, batting battle, last big skill composition, and a match that seems to be packed with elements of professional wrestling. Yuka Sakazaki won the game, but Emi Sakura also showed her awesomeness by fully appealing her character and directing a scene where she and Hikaru Shida, the champion, had an inspection line.
Sakazaki decided to advance to the final, but it is essential that the match will have a considerable weight difference regardless of whether Aja or Mizunami wins. It is expected to be a difficult battle, but he secretly showed that he has power as there was a scene where he lifted and turned Sakura this time.
Rather than showing an "enjoy girl" like in the first round, the impression is that he won a serious offense and defense. I think this time it was a match in which Emi Sakura took away Yuka Sakazaki's leeway and exposed her true face.
It was an interesting match where Sakazaki's hidden power and tenacity, Sakura's technique and power to control the match, were intertwined. I enjoyed it.
2nd match Ryo Mizunami vs Aja Kong
In the first round, Ryo Mizunami, who won by showing a strong difference in power while being tossed by Maki Ito, and Aja Kong, who also defeated Rin Kadokura. This is different from the first game, and there are plenty of four as expected in advance. It was a game of power and power.
Aja's lock-up push, tackle battle, and Mizunami knocked down Aja and hit a chop on Aja in the corner, but her favorite tug-of-war performance was blocked by a slap. The double chop knocks down the water wave and appeals to karate, which is good at it, but this is blocked by the mizunami. The offensive and defensive movements continue.
Aja returns the body slam of the water wave, but the mizunami avoids the elbow. From there, guillotine drops are repeated, catching Aja's kick and mastering the foot. The number of water wave attackers will gradually increase.
Elbow to the foot while doing leg lock. Gradually target Aja's right foot. Although Aja is still strong, the movement is heavier than in the All Japan Women's Pro Wrestling era, and damage to the legs will deprive him of his mobility.
Mizunami kicked Aja's right foot and stopped moving further, making Aja unable to do rope work. Aja was in such a state, but when she evaded Mizunami that rushed into Aja leaning on the rope and brought it into the out-of-field battle, the situation suddenly reversed.
Aja hits a water wave against the headquarters seat and hits an iron pillar. The Itto-kan can be stopped by the referee, but two back drops are fired sideways. The back fist is blocked, but the kick of the attacked right foot knocks down Mizunami.
However, maybe I was aiming here, Mizunami caught Aja's button and dragon screw! From there, I will immediately master the arm triangle that buried Maki Ito in the first round. Mizunami tighten violently! Aja's arm goes down slowly! Even though the referee check is entered, Aja Kong manages to escape to the rope.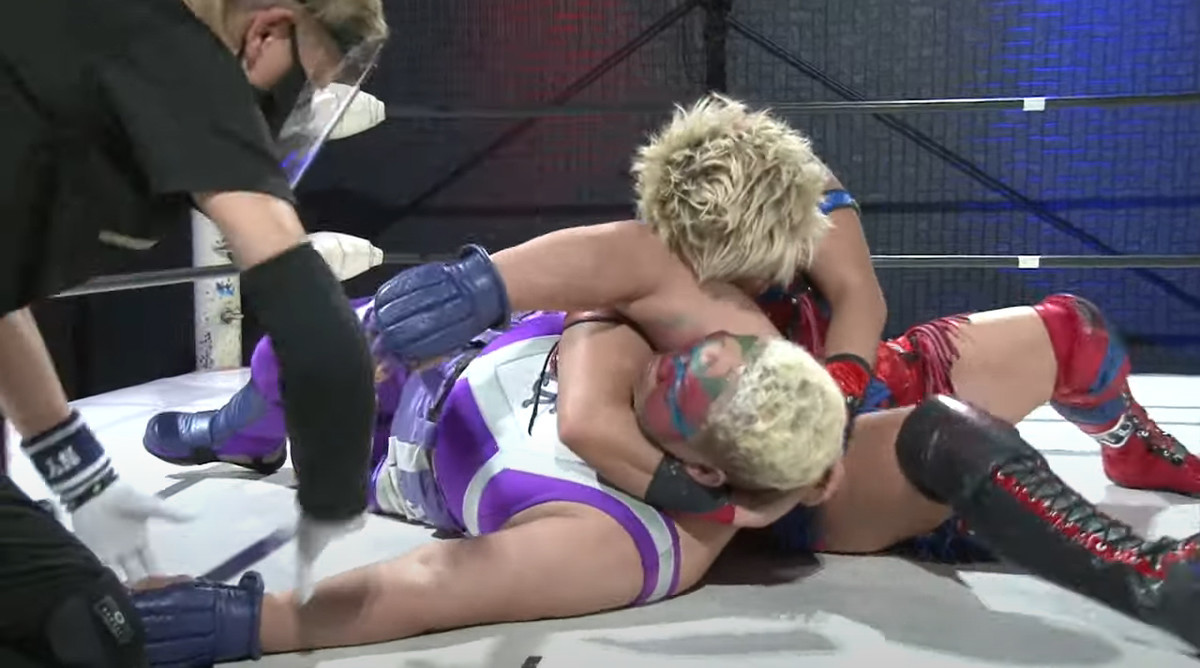 Aja managed to escape, but her appearance is weak. Mizunami fires Lariat all the time, but Aja who can't collapse even if he shoots 5 or 10 shots. In the end, it was Lariat's meeting, and it was Aja who overcame and defeated him. Count 2!

From there, Aja was aiming for an elbow from the top rope, but Mizunami quickly knocked it down and spear! Attack with the guillotine from the top rope! But count 2!
Aja finally flashes back to Mizunami that caused Aja to stop! However, Aja couldn't go to the fall immediately and managed to hold it down, but the count was 2. I managed to squeeze both powers and get into a state of engaging while sleeping. However, here again Aja invites Mizunami into the out-of-field battle.
And here was the point of the game. Aja took out an itto-kan, gave it to Hikaru Shida in the commentary seat, and struck Mizunami there. Head to the ring while the count is progressing by damaging the water waves in the brain battle. However, Mizunami that managed to get up and started running. A guillotine drop after climbing the corner for Aja who is about to climb the apron! Aja falling off the apron, Ryo Mizunami returning to the ring, and a count of 10 were counted, and Ryo Mizunami won the ring out from Aja Kong.
Ryo Mizunami won by colliding head-on with Aja Kong. The last was a victory called ringout, but the fight until then was a head-to-head battle. It was successful to go to defeat Aja without running away.
On the other hand, I think that the cause of the defeat was that Aja's movement slowed down due to the foot attack of Mizunami. Although its strength is still alive, Aja is already 50 years old. There was also a scene where I lost to the power and stamina of the 32-year-old Mizunami. It was still a great match, but it lost to AEW's 10 out-of-field count rule.
It is certain that Aja Kong gave a weak impression only in this match. It can be said that Ryo Mizunami showed its strength. It was a powerful and refreshing match.
Summary
There are all kinds of bargaining in the first game, and the second game is a refreshing collision. It was the Japan block semi-final that showed the breadth of women's professional wrestling.
The final combination is Yuka Sakazaki and Ryo Mizunami. There are differences in career and physique, but Yuka Sakazaki should also have something to expect as a representative of Tokyo Joshi Pro Wrestling. If you win, it's probably the tournament final in the United States.
A chance to grab a big AEW dream. Delivery is 9 am on March 1st, Japan time. It's a mystery app, but I'm going to register with guts and see it. Ganbare! Ore!
The finals of the Japan bracket are finally here and exclusively on @BleacherReport this Sunday at 7/6c, it's Yuka Sakazaki vs. Ryo Mizunami. Who will advance? Check the link to see how you can watch this for FREE ➡️ https://t.co/zktDupBtfQ pic.twitter.com/TTGm70tlxU

— All Elite Wrestling (@AEW) 2021年2月26日